Product in details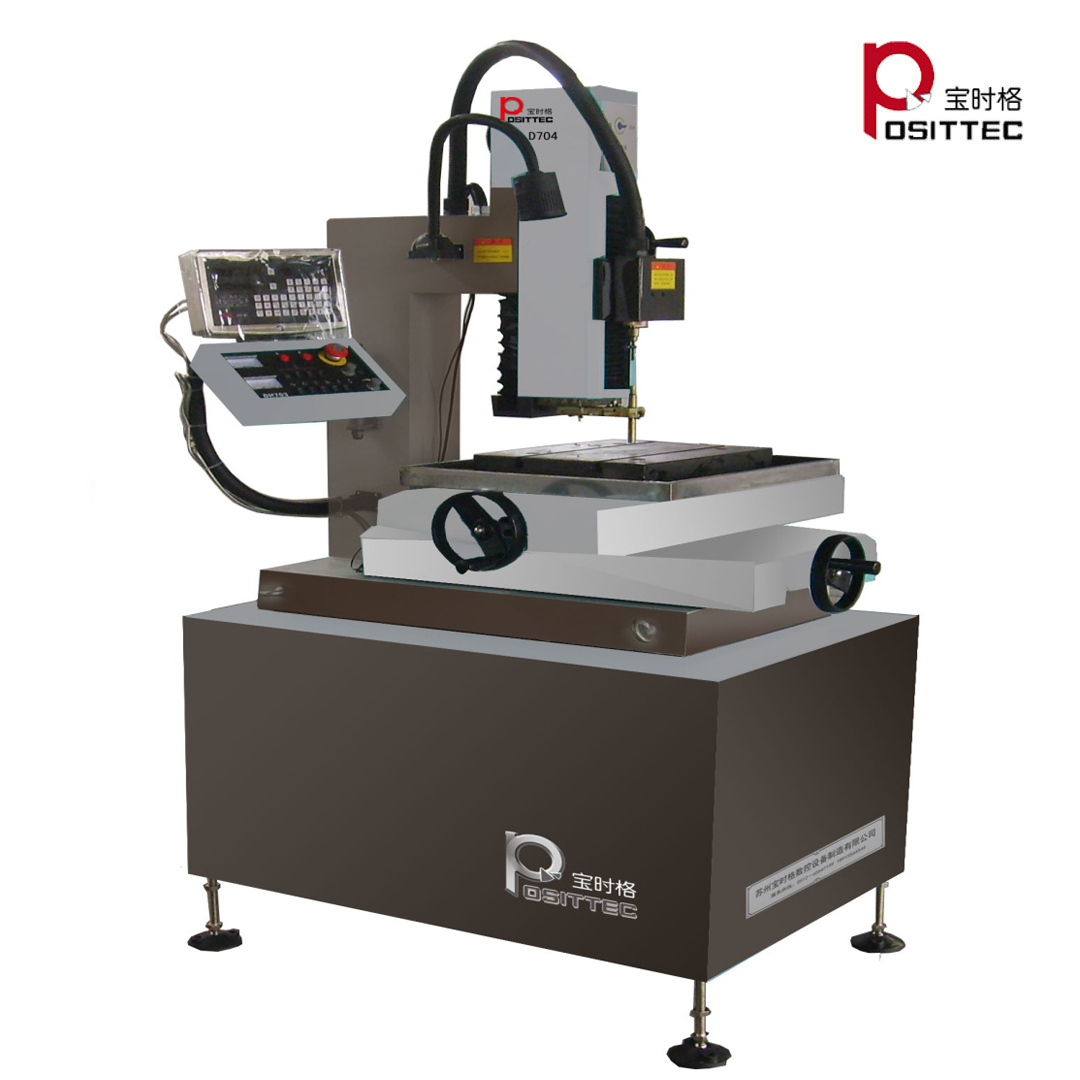 · Strong capability: Wide range of drilling hole: Dia. 0.3~3.0mm Max. Dia./Depth up to 1:300. Direct drilling from slope or curve. Drill wire-cut starting hole, filter hole, jet hole, gas hole, group holes and hole of super depth etc.
· High efficiency: Drilling speed up to 30~60mm depth per min. It varies depending of the type of material Reversed speed is 100% faster than drilling speed. Keep pace in processing and achieve high efficiency and consistence with thin electrode.
· Various conductive materials: Stainless Steel, Annealed Steel, Steel Alloy, Copper, Aluminum. Semiconductor material as well.
· Simple & Safety: A window is reserved in the machine for the pump pressure observation which makes it an easy to monitor or adjust the pressure as needed. Grating scale with digital monitor is installed on the X and Y axis. Z axis has the function of setting depth.The working solution can be tape water or saponification fluid without any pollution.
High speed small hole drilling machine adopts electrode to drill hole according to electrical discharge theory. It generates high frequency pulse electrical power between electrode and work piece to create small pulse, together with high pressure water plush to make higher speed erosion. That makes it especially fit to drill hole with diameter 0.2mm-3.0mm on stainless, hardened steel, cooper, aluminum, and hard alloy steel. The depth-diameter ration can reach to 300:1. Be able to drill directly into bevel or curve surface. The machine is used to drill hole in wire cut pieces, chemical fiber spinneret, spinneret plate, filter plate, group holes of sieve plate, engine blade, cylinder heat dissipation, the hydraulic or air operated valve, stomata. The machine can also erode the drill bit or taps broken in the working piece without destroy the original hole or screws.

| | | |
| --- | --- | --- |
| Parameter | Unit | D704 |
| Table Dimensions (L x W) | mm | 436×316 |
| X-Y Travel (X×Y) | mm | 200×300 |
| Max. Z-Axis Travel | mm | 270+ (300) |
| Drilling Depth | mm | 0~300 |
| Rapid Feed Speed (Depends on material and hole diameter) | mm2/min | 60 |
| Max. Current | A | 30 |
| Hole Dia. | mm | Ф0.30~Ф3.0 |
| Max. Workpiece Weight | Kg | 200 |
| Working Solution | | Water based solvent/Emulsion |
| Solution Tank | L | 30 |
| Power Voltage/ Frequency | | 3N-380V/50Hz |
| Rated Power | KVA | 3.5 |
| Machine Dimensions (W x L x H) | mm | 1060×750×1000 |
| Packing Dimensions (W x L x H) | mm | 1300×1040×2030 |
| Control of 2nd Stroke | | Electrical |
| Monitor | | 2 Axis |